Remember that scene from the 2018 movie Ocean's 8, where Debbie Ocean and her girl gang get decked up for the Met Gala heist? If you do, you'll know what the event does to people.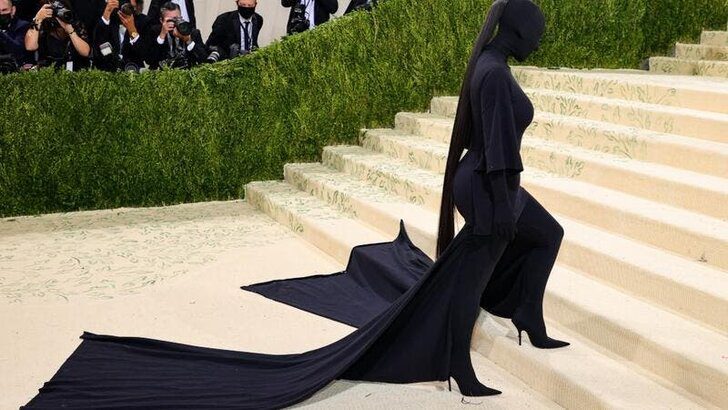 The Met Gala, one of the most awaited social events in the entertainment industry, brings out the hidden fashionista from everyone. Every year, renowned personalities grace the red carpet in their unique, often exceptionally peculiar attires. Some surprise the viewers with their style, while others try hard to make a statement. 
Here are a few unforgettable moments in the Met Gala history you might have missed.
Lady Gaga's eye-widening transformation in 2019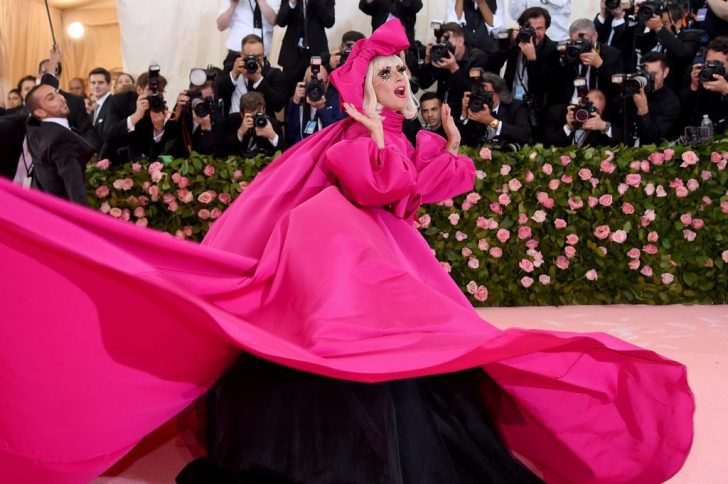 In a place where people struggle to pull off one outfit, Lady Gaga swapped four outfits at her 2019 Met Gala appearance. She started with Brandon Maxwell's 25-foot train cape gown and then changed into a corseted black dress which she wore underneath it. Of course, she didn't do it all by herself.
The singer cum actress had her designer and a hair and makeup team by her side at all times. Later, she unzipped the black gown and appeared in a bright pink column dress. As if that wasn't enough, at last, the 35-year-old stripped off her dress to reveal stylish black designer lingerie.
Jared Leto's creepy accessory in 2019
Who needs jewelry and watches when you can use your own head as the ultimate accessory? As terrifying as that sounds, Jared Leto actually pulled that off at 2019s camp-themed Met Gala. Leto wore a silky red high-neck Gucci gown with shoulder pads and a jewel-encrusted body chain.
But unlike Gaga or Porter, he didn't carry wings or umbrellas. Instead, he had a replica of his own severed head created with his signature locks and intense sapphire blue eyes, and he carried it proudly in his hand. Aaaahhh!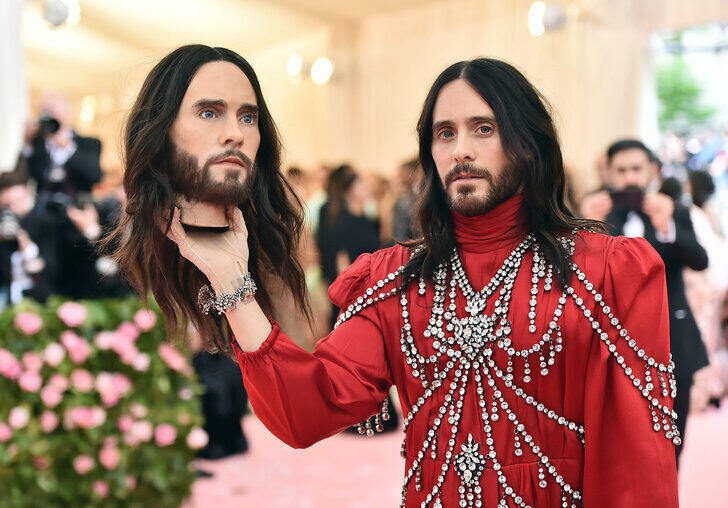 2 Chainz's unique proposal
Have you ever seen a fairy-tale-like proposal? The one where a guy pops the question in front of the entire world? If not, you must take a look at how 2 Chainz did it at the 2018 Met Gala.
During the event, the popular rapper got down on one knee and proposed to his longtime girlfriend, Kesha Ward. The moment turned out to be a classic when Ward said 'Yes' to the rapper, but as it later turned out, they were already married at the time and only wanted to reveal it to the world.
Billy Porter's grand entrance
If you think Billy Porter outdid himself in the 2021 film Cinderella, maybe you didn't catch his 2019 Met Gala entrance! Unlike other guests, the actor didn't choose to walk the red carpet. Instead, he was carried by six shirtless men on a litter.
On top of that, his custom "Sun God" ensemble by The Blonds was so shiny that it was hard for people to move their eyes off him. His golden catsuit outfit was fitted with 10-foot long wings and jewels. Plus, his headpiece was made of pure 24-karat gold. Amazing, right?!
Katy Perry's large outfit
For the 2018 heavenly bodies-themed Met Gala, Katy Perry dressed up as an angel. She wore a custom Versace dress with 6 ft. long wings. The funny part was that the singer had to arrive in an open-top vehicle to save her wings from any kind of damage or better fit comfortably.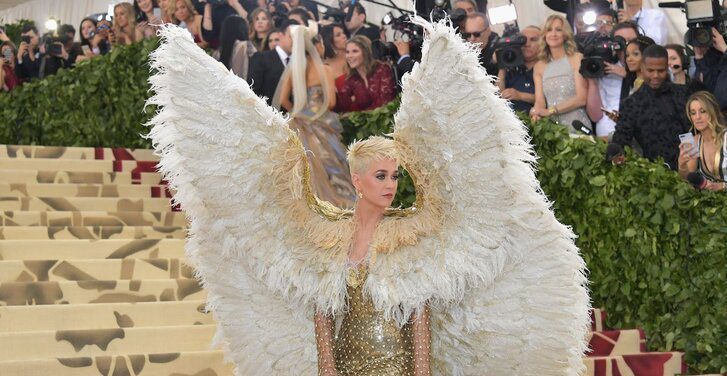 Which one's your pick?
Now that you know about the craziest Met Gala moments, which ones made it to your favorites list? Do let us know!