The bridal gown is one of the most significant aspects of the wedding day for many brides. And after two years of covid-induced will-they-won't-they nuptials and smaller, more private celebrations, 2022 will see a rise in big, ostentatious gowns as countries as borders open up. The best dresses to say "I do" in this year are ones that make a statement; maximalism is back! They range from ones that are full-on drama or inspired by historical romances to sensual, sleek designs that wouldn't look amiss on a red carpet!
For wedding guests, deciding what to wear may be a style challenge, but for brides, the sheer variety of options can make the decision to walk down the aisle completely daunting. These are the 2022 wedding dress trends to take note of this season if you're a bride-to-be who is in need of some wedding dress inspiration or just someone who enjoys gazing at a gorgeous dress or two.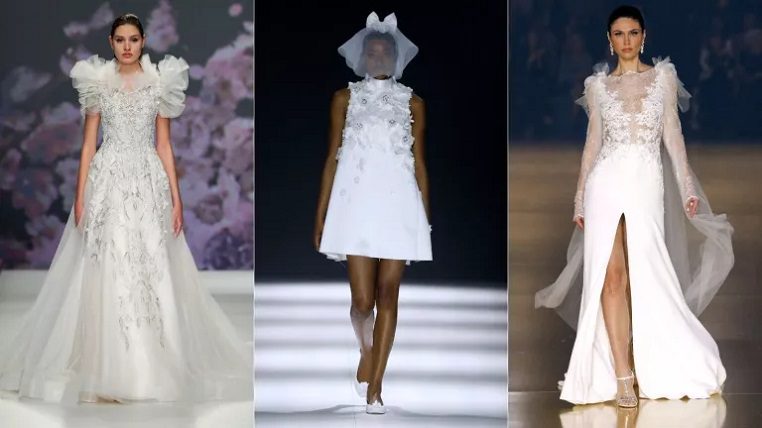 Dark theme gowns 
The popular chain David's Bridal is even offering black versions of its most popular wedding gown styles in select stores for the first time, following high customer demand for dark gowns instead of the traditional white Western dress. Pinterest is attributing the gothy inclinations to Gen Z, reporting in its 2022 wedding trend report that searches for "Dark wedding ideas" increased by 59 times during a 12-month period from 2021 to 2022 among that age group.
Blue hues
Designers have been playing with multicolor botanical prints on white backgrounds for several seasons, but what feels fresh is the shift towards color as the background, specifically pastel blue and pale pink being the two most popular choices. Ines di Santo and Amsale also played with infusing color into their embellishments, from the cascading tiers of a blue tulle train to carefully constructed blush blossoms. Quite possibly the most distinctive of the 2022 wedding dress trends.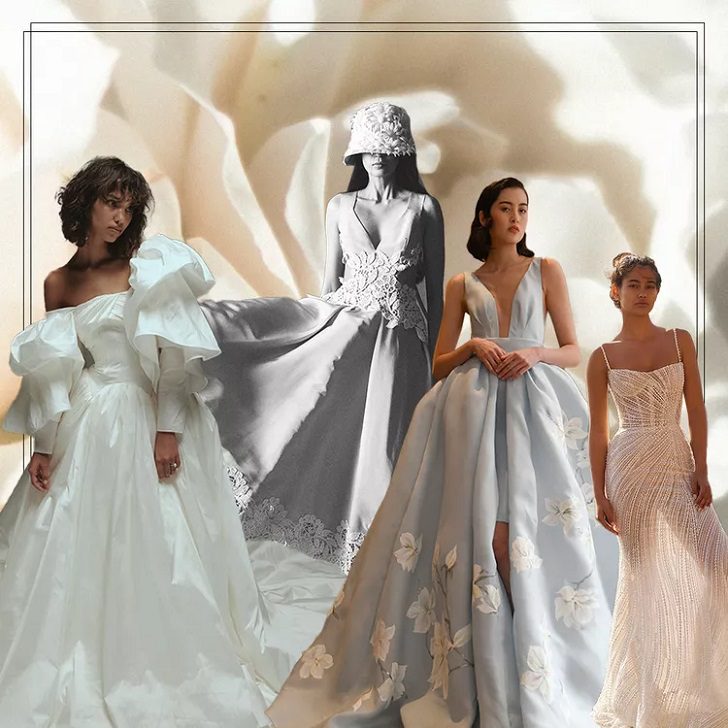 Ballet bridal
One of the most popular looks on all the 2022 bridal catwalks was the ballet-esque gown. For ultimate romance and impact, infinite layers of tulle are still the way to go, and for serious princess feels, next year's brides really need to pump up the volume. It's all in the texture: tulle is the essential ingredient for the maximalist bride. Think romantic ruffles, puff sleeves, glamorous fabrics, and textures for a fairytale feel.
Party minis
These looks are short on hemline but big on personality. Whether you're eloping, planning a casual ceremony, or looking for a good excuse to show off a killer pair of shoes, this 2022 wedding dress trend is for you. Have your heart set on a long gown for your ceremony? A short dress is also perfect for all of your other wedding-related events like your reception, rehearsal dinner, or bridal shower.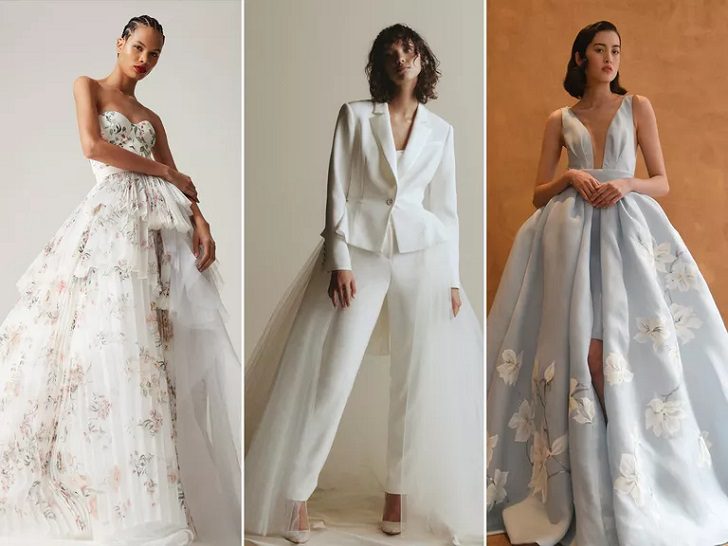 Square necklines 
The universally flattering square neckline is the new bridal trend that works for all bust sizes. Whether it's harking back to the '90s or even further back to the Regency era, this nostalgic neckline had the celebrity spotlight shone on it when Nicole Peltz chose it for her wedding to Brooklyn Beckham. A simple, minimal design, it's a perfect choice for the modern bride, and according to Kobus from Anna Georgina, it's best to let the square neckline do all the talking.